Community Service
2017 Recap: During this past year, members of the guild created and donated a total of 84 quilts (not including Quilt of Valor quilts), 179 pillow cases, 163 placemat and napkin sets, 21 additional placemats, and 20 baby hats.

In the past three years, this totaled 321 quilts, 333 pillow cases, and 500 placemats.

Organizations our guild has served include: Esperanza House, Creativity for Peace, Youth Shelters, Grants Women's Prison, Adelante, Cystic Fibrosis Foundation, Goodwill, Casa Familia, Kitchen Angels, Many Mothers, Big Brothers/Big Sisters, Women's Club fund raiser for Casa Familia, Navajo Nation, Gerard House and various local public schools. ​



​
Gerard's House Presentation:
Recently our Community Service organizers presented ten quilts to Gerard's House, a local organization that is dedicated to providing a safe place for grieving children, teens, and families (pictures above).


Present needs

Currently, the Guild especially needs the following:
- Pillowcases
- Placemats, preferably with coordinating napkins

In addition, there is always a need for crib sized quilts, lap sized quilts (our most frequently requested size) and twin sized quilts.

Specific information including sizes and suggested patterns can be found below.

Would you like to join us?

The Guild periodically holds Community Service Days and Kit Making Days.

The main focus on Community Service Days will be matching piecing quilts, while efforts on pillowcases and placemats will be ongoing. Our goal will be to have different quilt kits/patterns available on Community Service Days along with pillowcase and placemat kits.

The focus of Kit Making Days is sorting fabric, cutting, pressing, and putting together kits, usually for an upcoming Community Service Day.

In addition, at all monthly guild meetings, placemat and pillowcase kits are available for members to take home and return when completed.

Community Service Days in 2018 are as follows:

Saturday, March 24, 8:30-4:30 at Nancy Rodriguez Center.

Saturday, November 10, 8:30-4:30 at Nancy Rodriguez Center.

Upcoming Kit Making days in 2018 are as follows:

​Kit making days for 2018 are not yet scheduled.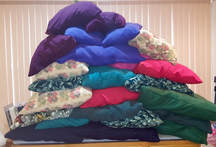 Twenty-five ecently completed pet beds, made by members Linda Robinson, Carol Haynes, and Terry Lopez, donated to the Santa Fe Animal Shelter.
Fleece or flannel scraps can be used for pet beds. If you have any of these fabrics to donate, contact
Linda Robinson
.

​Would you like to work on your own?
​
If you would like to make something on your own, here are some patterns that can be used that we have had great success with, though of course you may use your own pattern.
​
​The recipients of placemats are the elderly of all faiths. Therefore, we ask you not use holiday or religious themed fabrics or youth oriented prints.

Milly's Placemat Pattern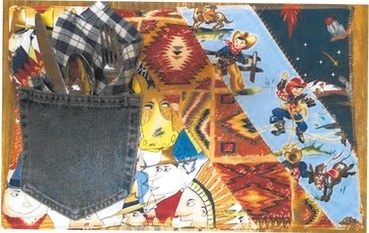 Pillowcase Pattern

Click here for a standard pillowcase pattern or here for the popular "hot dog method" pattern.

​Pillowcases made with red, white, and blue patriotic motif fabric will be used for Quilts of Valor. All others will be used for general Community Service quilt presentations.

Quilt Pattern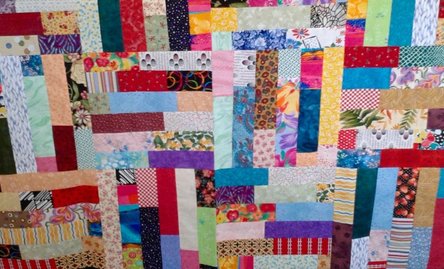 Click here for the quilt pattern we are currently using at Community Service days.
​
You certainly may use your own pattern for a quilt, though we ask that your finished quilt fall within one of these size ranges:
- Crib size (36-45" x 45-54")
​- Lap size (54-60" x 68-76")
- Twin size (65-70" x 80-85")

Once your donation is completed, you may bring it to any monthly guild meeting or drop it off at Santa Fe Quilting during their regular hours.

​If you make or contribute to a Community Service quilt you can print a label onto fabric from the link below, and attach it to your quilt.
Donation Receipts for Tax Purposes

Donation Receipts for Tax Purposes You can claim as a tax deduction the cost of materials for a quilt you donate to community service. Please fill out this form, keeping a copy for yourself and providing a copy to the NNMQG treasurer.