Guild Library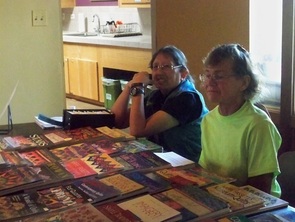 Library Update
Regrettably, the Guild's library is temporarily closed until the open librarian position is filled.
Our Guild Library
One of the terrific benefits of being a member of the Guild is the ability to borrow books from our extensive library. We have books on every type of technique--from hand piecing and quilting to machine piecing and quilting, from traditional quilts to the very latest art quilts.
Library Lending Policy
We have a collection of 700 books for use by Guild members. Books are available to be checked out at every Guild Meeting. The Board has decided to revise our Library policies effective April 4, 2011, due to difficulty getting our books returned from several individuals.
Books may be checked out by members only. New members may check out one book at a time. On returning the book, they may take out another. Other guild members may check out up to 3 total.
Books may be kept for a period of no longer than two months.
By checking out a book, members sign their names agreeing that they will be responsible for the book and will return it in a timely manner. The librarian keeps a computerized list of all checked out books and who has them in their possession. If a member has forgotten whether or not he or she has a book out, they can check with her. She will also remind members in person or by e-mail that books are over- due. Members will not be charged a late fee on over-due books. If the book or books are still not returned, members agree that the Guild will bill them $25/book or they must provide replacement copies of the books.
If this does not occur, the member will lose library privileges.
Other options for returning books other than bringing them back to meetings are as follows: Mail them back to the Guild address; Call the librarian to arrange to drop them by her house; Have a friend bring them back to a meeting; Drop them off at Santa Fe Quilting.
If everyone adheres to these policies, we will be able to continue buying the newest books for use by members, rather than using our funds to replace books that have not been returned and have been written off as lost.
Click
here
to view the catalog (PDF), which contains a full listing of the Guild's Library. There are two files--one sorted by title and one sorted by author.
​