Annual Guild Retreat


2018 Retreat Info
Dates for the 2018 annual guild retreat have been set! The retreat will be April 19th - 22nd, 2018 at Glorieta.
Wishing YOU were one of the 44 attending the 2018 Retreat? There is space available for one more day sewist* for each of the four days, April 19-22. Includes lunch each day.

ALSO...one retreat registrant is seeking a roommate for all four days, three nights and ten meals. Only $224!

If interested, contact Mary Rose C de Baca, or Margaret Marti ASAP.

Along with four days of unlimited sewing opportunities, Retreat offers the following mini workshop/event options:

Thurs PM Cindy Barfield presents Ribbon Topper Technique
Fri AM Connie Headley presents "Needles & Threads: The Basics"
Fri PM Field Trip to ThreadBear in Las Vegas NM—special offer planned!
Sat AM Cindy Barfield presents "Which Batting Should I Use?"
Sat PM Le Adams presents a tutorial for an Insulated Carry-all

In addition, Community Service kits
of various kinds will be available for those looking for Community Service sewing opportunities!
Seek Rosie Mott or Donna Ormerod for options.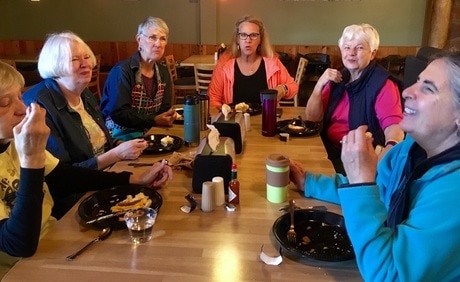 The 2017 Guild Retreat was a big success! Thank you to Donna Ormerod and Rosie Mott, our fearless coordinators for this huge event!
Look what we finished at the 2017 retreat:
Of course, the best parts of a retreat are getting to know each other better, learning from one another, and just having fun.