Thank You Notes and Letters to the Guild
Dear Linda
I have attached a pic of Robert and I with the beautiful quilt. We are so thrilled with it thank you so very very much again and also for bringing it to the house. We really do appreciate it. It was wonderful to meet you and your husband.

I skyped one of our daughters in England and showed her the quilt and sent her pictures too. She said it was so lovely and that she was amazed it was made so quickly and how kind it is of everyone to make these. She sends her thanks too.

Please keep us in your prayers we do have faith and we know the journey is going to get more difficult as each day passes. It came us a huge shock after returning from England to find that Robert ( I call him Victor its his middle name and he loves that name better) had the late stages of cancer. It is so very hard to take in. The sadness I feel for him is beyond words. My own Father in England died suddenly January this year just a few weeks before our trip to England. So I never got to see him and it has broken my heart and now I know I will loose my husband in the near future. But I don't question why these things happen. I do believe there is a reason for everything that happens even if we do not know that reason now.

But for now we enjoy each day feel blessed we are together and blessed we meet new and wonderful caring people like you and your husband.

Many many thanks to you and the wonderful ladies for all your fantastic quilting!! Please pass on our grattitude to them. Thank you Linda.

Regards

Teresa and Robert.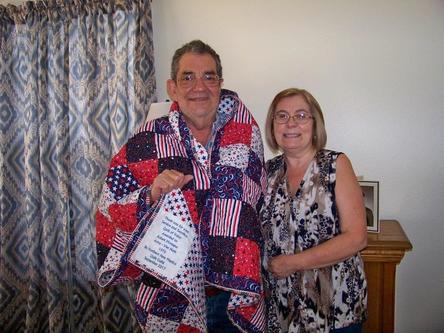 ---