Mini Groups
​
In addition to larger group activities, the guild sponsors several groups that meet regularly to focus on particular topics. These mini groups of NNMQG members meet in private homes or space that is provided by Santa Fe Quilting or The Sewing Center of Santa Fe.

Schedules shown below are the groups' usual meeting times. These can change to accommodate other guild events or group outings. Therefore, if you are interested in joining a group, you are encouraged to check with the contact listed for that group. All NNMQG members are welcome to join any mini group.


Quilts of Valor Group
:
The mission of the Quilts of Valor foundation is to cover service members and veterans touched by war with comforting and healing Quilts of Valor. This group meets the 1st and 3rd Wednesday of each month from 9:00 a.m. until 12:00 p.m. at Santa Fe Quilting. Anyone is welcome to join in helping make quilts and/or pillowcases (used for presentation cases) for these servicemen and servicewomen.
The group leader is Linda Robinson; board representative is Carol Haynes; Quilting Coordinator is Theresa Helldorfer.
For more information contact on the Quilt of Valor group, contact main contact for the group, Sandy Struve, at momsandystruve@yahoo.com, or, for more details see the
Quilts of Valor page
.
---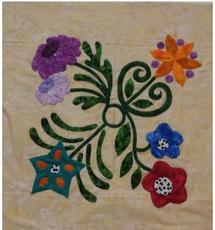 Hand Applique Group:

The Hand Appliqué group meets to work on and enjoy each others' handwork accomplishments. Members of this group meet the third Monday of each month from 1:00 p.m. to 4:00 p.m. at different members' homes.

For more information about the Hand Appliqué group, contact Gretchen Garnand at zgretchen356@gmail.com. Since this group's meeting move around and space in private homes is limited, we ask you please contact Gretchen for information before attending your first meeting.


Machine Applique Group:

The Machine Appliqué group meets to share tips and encouragement on machine appliqué topics as well as work on various individual and group projects such as stitch directories individualized for each member's personal machine. Anyone interested in joining is encouraged to bring their machine and sense of humor and join in the fun.

This group meets the 2nd Friday of the month at Westminster Presbyterian Church, 841 West Manhattan, from 1:00 p.m. to 5:00 p.m.

For more information about the Machine Applique Group, contact Le Adams at leezyquilts@cybermesa.com.

Contemporary Quilters Group:

The Contemporary Quilters group focusing on contemporary quilting, sharing both works in progress and finished projects as well as project ideas, fabrics, and sources. Also, members occasionally demonstrate a new technique.

This group meets the third Thursday of each month, 10:00 a.m. to 2:00 p.m. at the home of Lynne Horpedahl.

For more information about the Contemporary Quilters Group, contact Lynne Horpedahl at latenightquilts@msn.com.
---
Art Quilt Group:

The Art Quilt group is a creative, supportive group which shares ideas about innovative techniques and materials to help members develop original textile art.

Meetings are held the second Tuesday of each month from 10:00 a.m. to 12:00 p.m. at Santa Fe Quilting.

For more information on the Art QuiltGroup, contact Ann Anastasio at aanastasio@comcast.net.


Wool Applique Group

The Wool Appliqué group's goal is to help each other with techniques and share information related to the folk art of wool appliqué.

​This group meets the first Friday of the month at the home of volunteer members.

For more information about the Wool Appliqué group, please contact Kay Eccleston at kayquilt@comcast.net.
---

Surface Design Group:

The goal of the Surface Design group is to explore various surface design and dye processes, techniques, and materials.

This group meets the 3rd Tuesday of each month at a member's home or studio, usually beginning at 10:00 a.m.

For more information about the Surface Design Group, contact Mary Jo Stipe at maryjstipe@yahoo.com.
​
---
---

​Though not specifically guild functions:

Santa Fe Quilting offers both morning and evening "stitch-in" sessions every Thursday. Come and meet other quilters and guild members.

​Daytime sessions are held from 10:00 a.m. to 12:00 p.m. Evening sessions are held from 4:00 to 7:00 p.m. Sessions are not always held on the fifth Thursday of the month, so check with the store before attending.
​